Clint Smith and his training facility Thunder Ranch have just introduced a new offering to the 1911 market: the Combat Special. Thunder Ranch has been coming out with more and more firearms with their name on them with some design changes spurred on by the man himself (Clint Smith). The Thunder Ranch Combat Special is the newest offering from Clint Smith and Nighthawk Custom.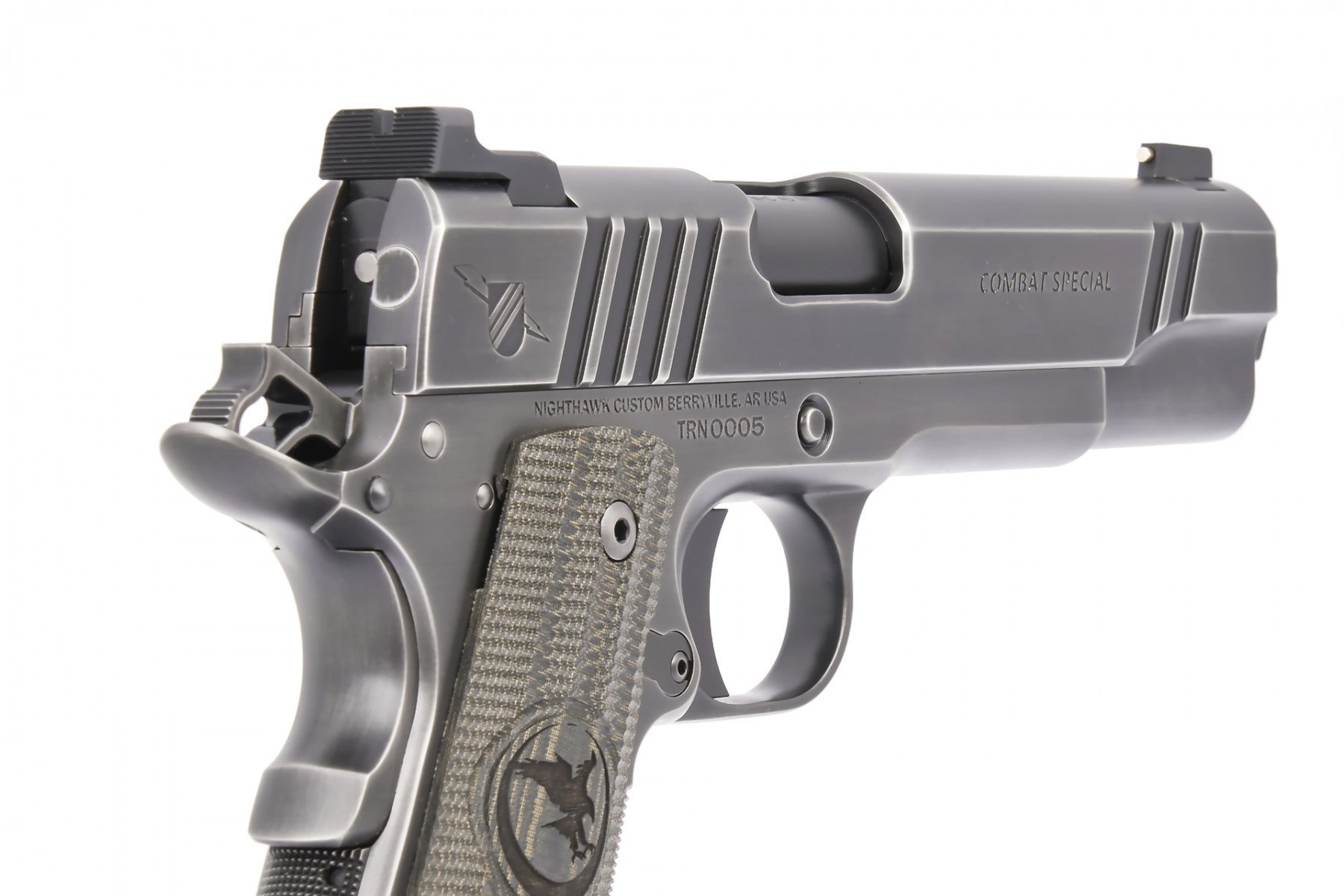 The Thunder Ranch Combat Special by Nighthawk Custom
For those that know of Clint Smith, it will come as no surprise that he is a big fan of the 1911 semi-automatic pistol. The Combat Special should then come as no surprise as their latest collaborative effort with a reputable firearms manufacture like Nighthawk Custom. The specs and description of the Thunder Ranch Combat Special can be found below as seen on the Thunder Ranch website:
Clint Smith, a 1911 expert, selected Nighthawk Custom to build his ideal pistol. After multiple discussions and prototypes, Clint finalized this design as his ultimate version of a handgun. This model features newly designed front and rear cocking serrations, a lanyard loop mainspring housing, a "GI-Style" nub thumb safety, custom engraving, and a gold bead front sight. The gun is finished with a unique Smoked Nitride finish and green linen/micarta scales.

The Thunder Ranch Combat Special is a 5″ Government model, available in both .45 ACP as well as 9mm Luger. It is available with or without an accessory/light rail.
FEATURES
Custom Front and Rear Cocking Serrations
GI "Nub-Style" Thumb Safety
18k Gold Bead Front Sight
25 LPI Checkering on Front Strap of Frame
Lanyard Loop Mainspring Housing With 25LPI Checkering
Medium Solid Trigger
Smoked Nitride Finish
Linen/Micarta Grips
Thunder Ranch Logo Behind Rear Cocking Serrations
Specifications
Frame Size: Government
Accessory Rail: Available with or without
Caliber: .45 ACP or 9mm Luger
Height: 5.85″
Overall Length: 8.60″
Width: 1.30″
Slide Width: 0.92″
Grip Thickness: Standard
Empty Weight: 40.8 oz.
Sight Radius: 6.49″
Barrel Length: 5″
Magazine Capacity: .45 ACP : 8 / 9mm : 10
Rear Sight: Black Serrated Heinie Ledge
Front Sight: Gold Bead
This is the Ultimate Baseline Platform for self defense. Browning would be proud, I am.

-Clint Smith
The post The Thunder Ranch Combat Special by Nighthawk Custom appeared first on AllOutdoor.com.